When:
February 6, 2020 @ 2:00 pm – 2:00 pm
2020-02-06T14:00:00-05:00
2020-02-06T14:00:00-05:00
Where:
Foosaner Art Museum
1463 Highland Ave
Melbourne
FL 32935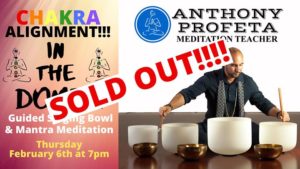 Immerse yourself in a unique & extraordinary SOUND, ENERGY & LIGHT healing experience in the DOME!!!
CHAKRA ALIGNMENT:
Guided Crystal Bowl & Mantra Meditation
Foosaner Art Museum Harris DOME, Eau Gallie, Florida
The seven chakras are the body's major energy centers through which our life energy flows. A blockage or imbalance in one or several of these centers can lead to mental, emotional, physical &/or spiritual ailments.
But, the use of sound (through instruments & voice) have been used for thousands of years to purify, align, & heal both the energetic centers and our physical body.
In this meditation, Meditation Teacher, Anthony Profeta, guides us to healing and attunement by playing the crystal bowls to help remove any blocked energy & then as we move one by one up through the chakra system he will introduce the Bija (seed) Mantras which the group will chant together to help align, balance, and purify our 7 energy centers.
The bowls & mantras together will create a one-of-a-kind meditative experience in which we'll be immersed in soundwaves, pure frequencies, & vocal tones.
In addition as we focus on each center the DOME will be lit up in the color associated with that color to help us focus and bring healing to the center of focus.
The sounds of the bowls and mantras being vocalized in the dome is going to bring the experience to another level.
This is sure to be an event which you will not want to miss.
COST: $35
#SevenChakras #7Chakras #Chakras #Chakra #ChakraBalancing #BalanceYourChakras #BijaMantra #Mantra #MantraMeditation #MeditationEvent #MeditationFlorida #FloridaMeditation #GroupMeditation #SoundBath #BowlMeditation #AnthonyProfetaMeditation #AnthonyProfeta #MeditationTeacher #MeditationWorkshop #MeditationEvent #FloridaMeditationEvent