When:
March 7, 2020 – March 20, 2020
all-day
2020-03-07T00:00:00-05:00
2020-03-21T00:00:00-04:00
Contact:
Anthony Profeta
(914) 319-3477
EXPERIENCE INDIA:
Land of Saints & Sages and Mystery & Mysticism!
with Anthony Profeta,
Meditation Teacher
March 7th – March 22nd, 2020
Join Anthony on his magical journey as he guides you through some of the most sacred cities & sites to the Hindu's, Buddhist's, Sikh's & those of the Baha'i Faith. You will have the chance to learn about ancient cultures, history, philosophies, and religions of India through lectures and guided tours while experiencing traditional ceremonies only found in India.
You will also deepen your yoga and meditation practice through classes offered from Anthony, as well as local teachers along the way.
If you can join us for an EXPERIENCE INDIA: Q&A during which we will go over the full itinerary and answer any questions you may have.
Tuesday, 7/23
PANERA (Melbourne)
275 Eau Gallie Boulevard East
Indian Harbour Beach, FL
7 pm
Tuesday, 7/30
PANERA (Vero Beach)
2001 Indian River Boulevard
Vero Beach, FL
7 pm
07 Mar 2020 / Thu
Arrival Delhi at 19:55 hrs by Emirates flight leaving Orlando & Arrival at Delhi airport India retreat with meditation teacher Anthony Profeta meet and transfer to hotel. Night stay in Delhi.
08 Mar 2020 / Fri
Delhi After relaxed breakfast proceed for sightseeing tour of Delhi.
Raj Ghat – the cremation site of Mahatma Gandhi is one of the most visited sites in Delhi. It consists of a simple square black-marble platform that stands on the spot where Mahatma Gandhi was cremated. Nearby, there are cremation sites of Jawaharlal Nehru – the first Prime Minister of India, Indira Gandhi, Sanjay Gandhi, Rajiv Gandhi and Lal Bahadur Shastri.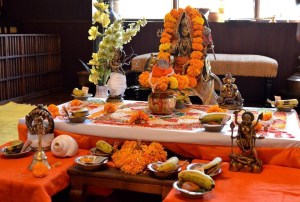 Jama Masjid – the largest mosque in India.
A rickshaw ride in Mughal emperor Shah Jahan's Shahjahanabad city (old Delhi) is one of the prime attractions of Delhi. Chandni Chowk is a place to be explored and savored by all those who do not fear crowds and have always been attracted by mixed sounds.
Also visit Red Fort, Red Fort is the most popular tombstone in the rule of Mughal emperor Shah Jahan that is popularly known as the Lal Quila. The Lal Quila has been established on 16th April 1639 which is made out of marble and designed exquisitely. The entire work of construction has been finished in nine years.
Later visit India Gate, and the Grand Government Buildings, the President's House.
Back to hotel. Night stay in Delhi.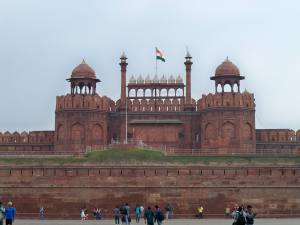 09 Mar 2020 / Sat
Delhi – Bodhgaya by flight (dep. 12:10 hrs & arr. 13:40 hrs) Morning transfer to airport to board the flight to Gaya. Arrive Gaya and transfer to hotel. Night stay in Gaya.
Bodhgaya
As the place of the Buddha's Enlightenment, Bodhgaya is the spiritual home of Buddhists.
It is situated near the river Niranjana, and is one of the holiest Buddhist pilgrimage centers since it was here that Buddha attained enlightenment under the sacred Bodhi tree. Anthony with guide us through the Mahabodhi Temple complex and we will spend a few minutes meditating under the Bodhi Tree.
Night stay in Bodhgaya.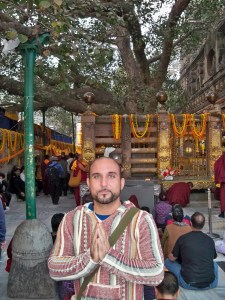 10 Mar 2020 / Sun
Bodhgaya – After breakfast explore Bodhgaya, one of the spiritual places in India where the historical Buddha became enlightened some 2500 years ago. Presently, it is a holy place for the Buddhists as well as for the Hindus. Here, under the Bodhi Tree, Gautama has gained supreme knowledge to become Buddha, the `Enlighted One'.
Niranjana river, an important place in Buddhism, Buddhist Literature places on record how before his attaining Buddhahood the ascetic Siddhartha was charmingly impressed by this locality on his first arrival here. His impression finds a marvelous expression in the following measured terms.
MahaBodhi Temple is the awe-inspiring monument created in the place of the Buddha's Enlightenment. Nearby is Sujata Garh, the ancient stupa is believed to be the place where Gautama Siddharth meditated following severe penance of fasting before he attained enlightenment. The village lady, Sujata offered rice pudding when she saw the emaciated Gautama (birth name of the Buddha). Gautama accepted the offer and realized the futility of the self-deprivation and later he went to meditate under the Bodhi tree where he became a Buddha.
During this day Anthony will guide us on a tour of the area monasteries, as well as, visit the large Buddha statue dedicated by the Dalai Lama.
Night stay in Bodhgaya.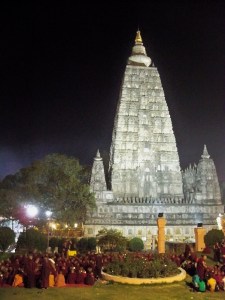 11 Mar 2020 / Mon
Bodhgaya – Rajgir – Nalanda – Bodhgaya (day excursions 220 km, 6-7 hrs) After breakfast day excursion to Rajgir & Nalanda.
Excursion to Rajgir
The picturesque Rajgir, or Rajagriha as it was known in the past (literally, the abode of kings) is surrounded by the meandering river Banganga and 5 hills. During the lifetime of the Buddha this was the capital of the powerful Magadhan kingdom, ruled by the virtuous King Bimbisara. The hills and caves surrounding Rajagriha were home to spiritual teachers, ranging from the materialism of the early Charavaka school to the metaphysics of Upanishadic philosophers. Like many others in search of truth, Prince Siddhartha, after he renounced his royal heritage came to this city to seek the path of liberation.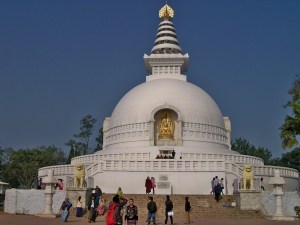 The Vulture Peak, also known as the Holy Eagle Peak or Gadhrakuta, was the Buddha's favorite retreat in Rajgir and the scene for many of his discourses.
Nalanda was the most renowned university in ancient India. It derived its name from Na-alam-da, meaning Insatiable in Giving, one of the names by which the Lord Buddha was known.
Later back to Bodhgaya. Night stay in hotel.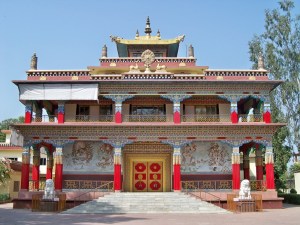 12 Mar 2020 / Tue
Bodhgaya – Varanasi by Flight Transfer to airport to board flight to Varanasi.
Meditation India retreat Anthony profeta Varanansi Sadhu Arrive Varanasi and transfer to hotel. Later explore Varanasi city. Varanasi – said to be India's most sacred city situated on the western bank of the holy river Ganga. It is also the oldest living city in the world. As a place for devotion and worship, with hundreds of temples dotting the city, sunrise on the riverfront as seen from a boat can be a spiritually uplifting sight. It has a fascination uniquely its own, a quality of sublime beauty, a timeless eternal appeal. Varanasi is the city which cannot be described, only experienced.
Evening view "Ganges Aarti" ceremony on the Ghats.
Night stay in Varanasi.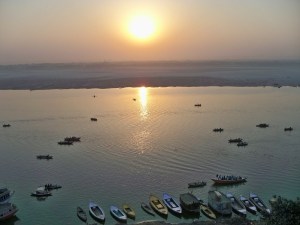 13 Mar 2020 / Wed
Morning boat cruise at the river Ganges to observe the way of life of pilgrims by the Ghats. Also explore temples in Varanasi.
Later excursion to Sarnath, 10kms. East of Varanasi, is one of the Buddhism's major centers of India. After attaining enlightenment, the Buddha came to Sarnath where he gave his first sermon. Visit the deer park and the museum.
Rest of the day at leisure or join us on one of our Optional Excursions.
Night stay in Delhi.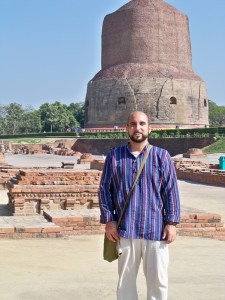 15 Mar 2020 / Fri
Delhi – Amritsar by train (dep. 07:20 hrs & arr. 13:45 hrs) Early morning transfer to railway station to board train to Amritsar. Arrive Amritsar and transfer to hotel.
Later visit Golden Temple the most sacred temple for Sikhs. It is a symbol of the magnificence and strength of the Sikh people all over the world. In the evolution of the Darbar Sahib, is entwined the history and ideology of Sikhism. In its architecture are included, symbols associated with other places of worship. This is an example of the spirit of tolerance and acceptance that the Sikh philosophy propounds. Also visit Jallianwala Bagh- Martyrs' Memorial built in the shape of eternal flame of liberty is situated on the outskirts of Golden Temple. Here about 1500 and 2000 persons who were attending a peaceful meeting during the freedom movement fell under the bullets of the British General Dyer on 13 April 1919 and the city of Amritsar.
Night stay in Amritsar.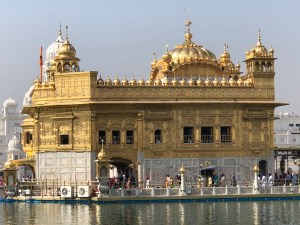 16 Mar 2020 / Sat
Amritsar – Haridwar by train (dep. 06:50 hrs & arr. 14:10 hrs) & Haridwar – Rishikesh (20 km, 1 hr) Early morning transfer to railway station to board train to Haridwar. Arrive Haridwar, meet and visit The Large Shiva Statue. Later straight drive to Rishikesh.
Rishikesh – also known as the 'place of sages', at the confluence of the Chandrabhaga and Ganga. It is believed that God by the name of 'Hrishikesh' had appeared as an answer to the hard penances by Rabhiya Rishi and henceforth the place derived its name. It is the starting point for the Char dham pilgrims but also for the people who are interested in meditation, yoga and other aspects of Hinduism. In Rishikesh visit Laxman Jhula- a hanging bridge on the river Ganga is one of the most famous spot in Rishikesh. According to Indian mythology, Lakshman, the younger brother of Lord Rama crossed the Ganga with the help of hanging bridge made of Jute. The bridge offers a scenic view of the river Ganga as it tumbles down to Haridwar.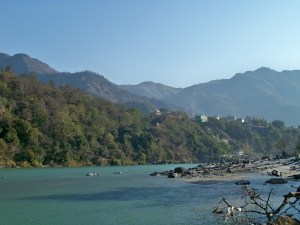 17 Mar 2020 / Sun
Rishikesh Free day you can do your own activities. Night stay in Rishikesh.
[Optional Excursions to be announced – such as visiting Vashishtha's Cave, the Jesus Cave, waterfalls, etc…]
18 Mar 2020 / Mon
Rishikesh Free day you can do your own activities. Night stay in Rishikesh.
[Optional Excursions to be announced – such as Yoga classes, Ayurvedic spa treatment, whitewater rafting, puja at the ashram.]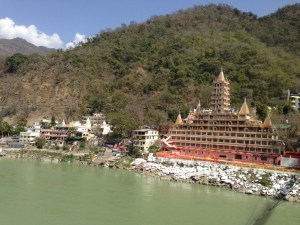 19 Mar 2020 / Tue
Rishikesh – Haridwar – Delhi by train (dep. 06:22 hrs & arr. 11:15 hrs) Early morning transfer to railway station to board train to Delhi.
Arrive Delhi and visit Akshardham Temple constructed in recent times by the Bochasanvasi Aksharpurushottam Swaminarayan Sanstha on the banks of the River was inaugurated in the year 2005. Akshardham Temple is a wonderful Hindu shrine which is located in the east region of New Delhi. The temple is about 11 ft tall along with statue of Bhagwan Swaminarayan. The entire building has been constructed from Pink Sandstone and Italian Marble, without any concrete or steel. It is designed in intricate carvings, magnanimous structure and the backdrop to look a masterpiece of art. Apart from the main temple, there are a wide range of buildings in the complex where tourists can enjoy many cultural and spiritual activities.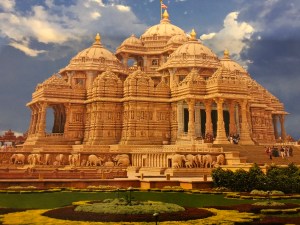 If time allows you can also visit Lotus temple, Lotus Temple is India's most captivating scared temple. It is assumed that the temple has been created to look like a lotus flower. This lotus temple has been made out of marble, dolomite, cement, and sand. The best part of this temple is its exceptional structure which is well-known for its perfectly unpolluted environment. It will let the believers meditate in peace and get instant relaxation. Later transfer to hotel.
Night stay in Delhi.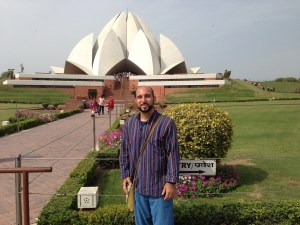 20 Mar 2020 / Wed
Delhi – Agra by train (dep. 08:00 hrs & arr. 09:40 hrs) Agra – Delhi by train (dep. 17:50 hrs & arr. 19:30 hrs) Early morning transfer to the railway station to board the train to Agra.
Arrive Agra, meet and visit magnificent TAJ MAHAL – Built by Shah Jahan, the Taj is a white marble memorial to his beautiful wife Mumtaz Mahal. This monument took 22 years to be completed and was designed and planned by Persian architect Ustad Isa. Apart from its stunning design balance and perfect symmetry, the Taj is also noted particularly for its elegant domes, intricately carved screens and some of the best inlay work ever seen.
AGRA FORT- Fort built in red sandstone with its magnificent palaces, halls of public and private audience and the beautiful gardens. This is where Emperor Shah Jahan was kept under house arrest by his third son Aurangzeb and spent the last year of his life viewing the Taj Mahal from across the river Jamuna.
Evening transfer to the railway station to board the train to Delhi. Arrive Delhi and transfer to hotel. Night stay in Delhi.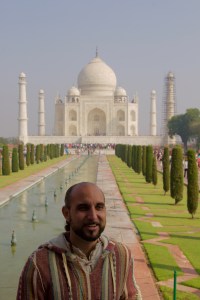 21 Mar 2020 / Thu
Delhi (Free day) Free day, you can do your own activities or join us as we find a place to celebrate the Festival of Holi!
Holi also known as the "festival of colours", is a spring festival celebrated all across India. It signifies the victory of good over evil, the arrival of spring, end of winter, and for many a festive day to meet others, play and laugh, forget and forgive, and repair broken relationships.
Night stay in Delhi.
22 Mar 2020 / Fri
Delhi departure at 21:25 hrs After leisurely breakfast check-out hotel. Later explore local markets for last-minute shopping. Evening transfer to airport to board your onward flight to back home.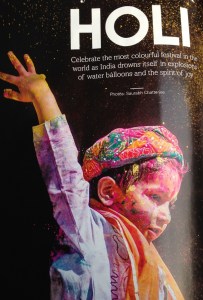 COST: $3,999
(Reserve your place with $500 Non-refundable Deposit)
HOW TO SAVE MONEY:
$499 DISCOUNT for deposits received BEFORE AUGUST 31st = $3,500
$250 DISCOUNT for deposits received by SEPT 30th = $3,749
TRIP MUST BE PAID IN FULL BY January 4th, 2020!
*Price is for DOUBLE OCCUPANCY and Includes:
15 nights' 4* accommodations with breakfast » All transfer and sightseeing by air-conditioned bus » Economy class flight between Delhi-Bodhgaya & Varanasi-Delhi » Executive class train between Delhi-Amritsar-Haridwar » Air-conditioned chair car train between Haridwar to Delhi (No Executive class available in given train) » English speaking escort guide during certain city tours » Entrance fees to monuments » All taxes, driver allowances, parking, etc…
Does not include: » International Airfare, Remaining Meals, Tips, Laundry, Tuk-Tuk travel (if needed), and any Optional Excursions.
* For single occupancy add $1295
* No payments accepted after January 4th, 2020
Questions:
Please try to attend one of our Q&A nights listed above.
Contact:
Anthony Profeta
(914) 319-3477
AnthonyProfetaMeditation@outlook.com
OPTIONAL:
8-DAY NEPAL EXTENSION = $1,795