When:
November 20, 2020 @ 6:30 pm – 8:00 pm
2020-11-20T18:30:00-05:00
2020-11-20T20:00:00-05:00
Where:
Aquarian Dreams
414 N Miramar Ave
Indialantic
FL 32903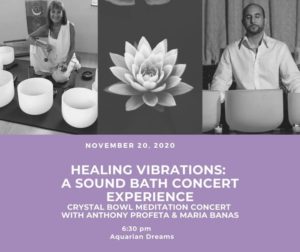 HEALING VIBRATIONS: A Sound Bath Concert Experience
Crystal Bowl Meditation Concert with Anthony Profeta & Maria Banas
Join Meditation Teacher & Singing Bowl Specialist, Anthony Profeta & Reiki and Singing Bowl Master, Maria Banas for a special evening!
Their POWERFUL & HEALING Sound Bath Meditation Concert Experience will leave you feeling calm, relaxed, peaceful, and with a greater sense of overall well-being.
Anthony & Maria will use the soothing sounds of crystal, as well as, Himalayan Singing bowls, chimes, and other instruments, to shift your brain waves out of the Beta brainwave state and into the more relaxed Alpha & deeply rejuvenate Theta brainwaves states.
This will be a very therapeutic event because the sound waves will also wash over your body helping to realign your energetic body bringing it into a more harmonious state.
The combination of these powerful frequencies will make this an event not to be missed.
Time: 6:30 – 8:00 pm
Cost: $45.00 pre-paid (or $50 day of event)
Register online or call 321-729-9495
(Due to current social distancing protocol, class size will be limited, and pre-registration is recommended. Please bring a yoga mat or pillow)