When:
November 4, 2019 @ 11:00 am – 12:00 pm
2019-11-04T11:00:00-05:00
2019-11-04T12:00:00-05:00
Where:
Haiti Partners
1531 US Highway 1
Vero Beach
FL 32960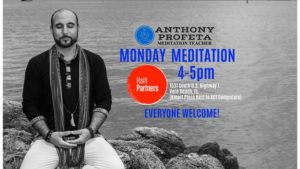 MONDAY MEDITATION GROUP & CLASS
You are invited to join us Monday's from 4-5pm at the Haiti Partners Vero Beach location for a Weekly Meditation Group led by Anthony Profeta, Meditation Teacher.
This Meditation group is open to EVERYONE. No experience is necessary. It is a wonderful way to learn how to begin a practice, a great way to refresh your practice, or just to connect with like-minded people to practiced with.
Each week we will begin with a short discussion about the practice, why we do what we are doing, the benefits and science behind the methods and of course we will spend time practicing together.
Your donation cost will be going towards helping a great cause.
You can learn more about Haiti Partners at there wonderful mission by visiting their website: https://haitipartners.org/
You will also be able to find a link to their other community events happening at this space – such as yoga, Qigong, etc…
For more information contact Haiti partners directly at:
(772) 539- 8521
or
Anthony Profeta at: (914) 319-3477
Hope to see you there!
#Meditation #Mindfulness #Meditate #MeditationClass