When:
November 15, 2020 @ 6:30 pm – 6:30 pm
2020-11-15T18:30:00-05:00
2020-11-15T18:30:00-05:00
Where:
Aquarian Dreams
414 N Miramar Ave
Indialantic
FL 32903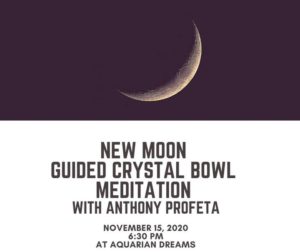 New Moon Guided Meditation – with Anthony Profeta
The New Moon is the beginning of the lunar cycle. It is also a wonderful time to utilize the moon's increasing energy by channeling it into what we wish to create or build in our life. It's a time for us to plant the seeds for whatever it is we wish to grow in the garden of our lives. The Tibetan Meditation Masters say that a New Moon is the perfect time to get in touch with our Higher Self.
During this meditation, you may lie on a mat, sit in a chair, or sit on a cushion. Just make yourself as comfortable as possible as meditation teacher, Anthony Profeta takes us on this meditative journey of healing, relaxation, & connection. The Crystal & Himalayan Bowls will be played during the entire meditation.
Suggested: Bring yoga mat or pillow.
Time: 6:30 – 8:00 pm
Cost: $20.00
Register online or call 321-729-9495
(Due to current social distancing protocol, class size will be limited, and pre-registration is recommended. Please bring a yoga mat or pillow)