When:
August 12, 2020 @ 3:00 pm – 4:00 pm
2020-08-12T15:00:00-04:00
2020-08-12T16:00:00-04:00
Where:
Aquarian Dreams
414 N Miramar Ave
Indialantic
FL 32903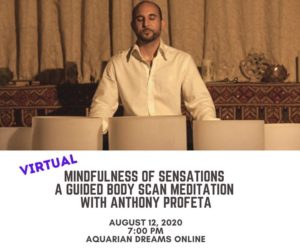 *Note this is a virtual class, offered online*
A body scan or body sweeping meditation helps us reconnect to the life that's here, right now!
In this class, meditation teacher, Anthony Profeta teaches us how to expand our mindful awareness away from the breath to include any energies, such as sensations or emotions, which arise within the framework of the body.
Whether the sensations are pleasant or unpleasant we can bring our attention to whatever life is moving through us right now with the same gentle and loving awareness that we would give the breath in a formal breath awareness practice.
The heart of this meditation practice asks two basic questions:
1. What is happening inside me right now?
2. Can I be with this or can I let this be?
It's being aware of our being, our aliveness, that's happening right here in this moment that leads us to healing, an opening of our heart, and an awakening of our mind.
To practice there is nothing you need to do but get comfortable, relax, and feel your own body.
Please, sign up for this class prior to 30 minutes before the start time. Signing up for this class virtually means that you will receive a link to the live class within 30 minutes prior to the class start time.
Cost: $12.00
Registration options:
1. Sign up through Mindbody/the Aquarian Dreams website (link listed below) or the MindBody App or
2. Call 321-729-9495.
(If you have trouble signing up with Mindbody please call the store to reserve your spot!)
https://www.aquariandreams.com/special-events/
For Virtual classes, if you have any questions, please email aquariandreamsonline@gmail.com