When:
February 2, 2020 @ 8:00 am – February 23, 2020 @ 1:00 pm
2020-02-02T08:00:00-05:00
2020-02-23T13:00:00-05:00
Where:
Aquarian Dreams
414 N Miramar Ave
Indialantic
FL 32903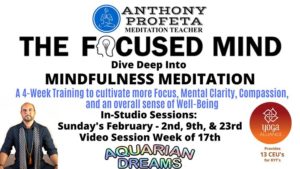 The Focused Mind is a 4-week mindfulness meditation training course presented by renowned meditation/mindfulness teacher Anthony Profeta.
The goal of this course is to help participants cultivate a more focused & concentrated mind, mental clarity, compassion, and an overall well-being in their lives. The course covers a huge amount of detail and is centered around training in presence; learning how to live in and be more aware of the moment.
Over the course of 4 weeks, you will learn
1. how to cope with your emotions, feelings and thoughts in everyday life, and indeed address those past experiences.
2. You will learn to stay calmer and more focused in your daily life, helping you to make better decisions and respond to life in wiser ways.
3. You will learn to tap into a limitless source that will allow you to feel more content with what you have, who you are, and to appreciate and love yourself more fully.
RECOMMENDED FOR: Yoga students, yoga teachers, social workers, therapists, school teachers, leaders in any field, or anyone looking to build or deepen their mindfulness practice, cultivate more presence in their life, and learn some tools to help them navigate this stressful & complex world.
This course is OPEN TO EVERYONE & ALL LEVELS OF EXPERIENCE!
(Don't worry if you are new to meditation. This course will give you a solid foundation on which to build a practice.)
This course does provide 13 CEU's for all RYT's through Yoga Alliance.
REQUIREMENTS:
Full attendance in the program is mandatory if you are using this to fulfill the application requirements Anthony's 100hr teacher training program which starts in June 2020.
Questions?
Email: AnthonyProfetaMeditation@outlook.com / Phone: (914) 319-3477
COURSE DATES:
Sunday FEBRUARY 2nd 1-5pm (In studio)
Sunday, FEBRUARY 9th 1-5pm (In studio)
Week of 16th ZOOM CALL SESSION
(date to be determined by group)
Sunday, FEBRUARY 23rd 1-6pm
LOCATION:
Aquarian Dreams in Indialantic, FL
COST:
$297 (Payment Plans Available if needed)
50% deposit to secure your space & next 50% due week of 2/9.
ABOUT ANTHONY:
Anthony Profeta is an internationally-known medical student turned meditation/mindfulness teacher whose knowledge stems from 19+ years of study and practice. His passion for meditation has led him around the world studying many various techniques in monasteries, ashrams, & meditation centers of the US, Nepal, & India. He considers himself very blessed to have been guided & mentored by Jack Kornfield, Sharon Salzberg, & The Dalai Lama.