When:
January 19, 2020 @ 7:30 am – 8:30 am
2020-01-19T07:30:00-05:00
2020-01-19T08:30:00-05:00
Where:
Inside Out Yoga
52 Fourth St NW
Winter Haven
FL 33881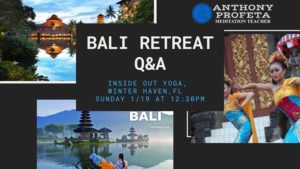 We invite you to join us this Sept 2020 for 6 days on the Island of God!
Not only will you participate in "Rejoice Fest Bali" which gives you access to all that Bali has to offer, but additionally you'll participate in special practices & ceremonies with Anthony Profeta, Meditation Teacher & Yoga Instructor Ali Smith which aim to awaken your true nature, allowing your soul to fly, & help you Mani-FEST your vision of what it is you desire for your self & your life; helping you learn what the true meaning of freedom and happiness is.
To learn more about this transformational experience please join us THIS SUNDAY 1/19 at Inside Out Yoga in Winter Haven for a quick Q&A sessions in which we will go over the trip. We will cover what it includes and what we will be doing, as well as, for those who have some extra time off our optional extension to Thailand! 🙂 <3
We look forward to seeing you there & bring your questions!