When:
November 11, 2020 @ 5:30 pm – 5:30 pm
2020-11-11T17:30:00-05:00
2020-11-11T17:30:00-05:00
Where:
Aquarian Dreams
414 N Miramar Ave
Indialantic
FL 32903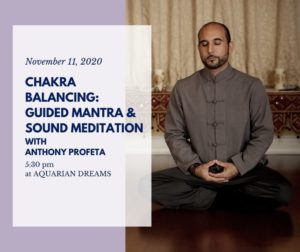 Chakra Balancing: Guided Mantra & Sound Meditation with Anthony Profeta
Immerse yourself in a unique & extraordinary sound healing experience.
The seven chakras are the body's major energy centers through which our life energy flows. They are not "physical" centers, but belong to the realm of "subtle energy". A blockage or imbalance in one or several of these centers can lead to mental, emotional, physical and/or spiritual ailments. But, sound (through instruments & voice) has been used for thousands of years to purify, align, & heal the body.
In this meditation, meditation teacher Anthony Profeta guides us to healing and attunement by playing the crystal bowls to help remove and break up blocked energy. Then as we move one by one up through the chakra system, he will introduce the Bija (seed) Mantras which the group will chant together to help align, balance, and purify our 7 energy centers.
The bowls & mantras together will create a one-of-a-kind meditative experience in which we'll be immersed in soundwaves, pure frequencies, & vocal tones.
Time: 5:30 – 7:00 pm
Cost: $20.00
Register online or call 321-729-9495
(Due to current social distancing protocol, class size will be limited, and pre-registration is recommended. Please bring a yoga mat or pillow)