When:
December 3, 2019 @ 2:00 pm – 4:00 pm
2019-12-03T14:00:00-05:00
2019-12-03T16:00:00-05:00
Where:
Haiti Partners
1531 US Highway 1
Vero Beach
FL 32960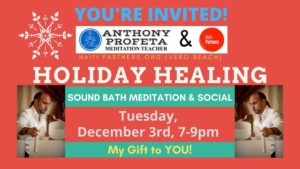 ANTHONY'S HOLIDAY GIFT OF HEALING!!
Tuesday Night DEC 3rd from 7-9pm
The holidays should be a time of joy, happiness, & peace.
However, the holiday season can leave some of us feeling impatient, cranky, and — in some cases — even depressed. When the realities of day-to-day life conflict with our efforts to make the holiday season perfect, stress results.
To help you through this season we invite you to join us at Haiti Partners for a Holiday Healing Meditation & Social during which Meditation teacher, Anthony Profeta will present one of his Sound Bath Meditation experiences to help us relax and wash away our holiday stress so that we can move into them with some peace, calm, and centeredness.
Research has shown that Sound Bath Meditations reduce physical pain, lower our heart rate & blood pressure, as well as, relieve tension and depressed moods. The Sounds and vibrations of the singing bowls have been shown to change brainwave activity from the 'beta' and into the more relaxed states of 'alpha' and 'theta' improving the way you feel physically, mentally, emotionally, & spiritually
As a THANK YOU to the community for all their love & support, Anthony is offering this HOLIDAY HEALING: Sound Bath Experience as a DONATION-BASED event.
All your donations will be going to support the wonderful work of Haiti Partners.
PLEASE NOTE: You will need to bring your mat. A limited number of chairs will be provided.
After the meditation be sure to join us for snacks & drinks.
HAITI PARTNERS
1531 U.S. Highway 1
Vero Beach, FL
(In The Kmart Plaza Next to ACT Computers)