I am excited to share the news!
I'm so excited to share a new project with you! I have joined forces with my good friend Wes Gordon and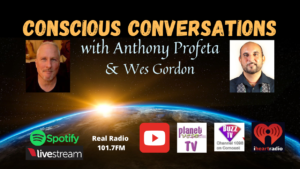 together we will be hosting a new Radio Show, TV Show & Podcast called Conscious Conversations!
This will be a weekly Radio Show airing EVERY SUNDAY and the show can be heard from Port St Lucie, FL up to Melbourne, FL on Real Talk Radio 101.7FM.
The show will also be livestreamed to my Facebook page EVERY WEDNESDAY at 10:15am.
If you live in Indian River County Florida the show will air EVERY TUESDAY at 8am/8pm on Comcast Xfinity channel 1098. And if you aren't in our area you can also listen via Real Radio, Spotify, & iTunes as a podcast or see the show on my youtube channel.
Conscious Conversations is a place where East meets West; where orthodox teachings mesh with New Age thought; Where science & spirituality come together as one; a place where conversations & ideas will challenge your minds, expand your consciousness, awaken your heart, and make you think more deeply about yourself & the world.
Please be sure to join our Conscious Conversations Community. By being a part of this community you can offer topics you would like us to discuss on-air, or ask questions, share your thoughts, and leave comments on show topics and join in the conscious conversations we are having.

Hope you enjoy!